Safety is an important element in the Maritime and Offshore market. In case of an emergency at sea, the emergency services are not present within a few minutes. You will have to be able to bring yourself to safety in the first place. Our objects meet the various requirements within the sector (NOGEPA, OPITO, STCW, GWO).
Pools & HUET objects
When you think of survival at sea, you immediately think of drowning. In the swimming pool, all possible scenarios with immersion suits and rafts can be trained. The swimming pool can be combined with a HUET set-up for realistic training of escaping from a crashed helicopter at open sea.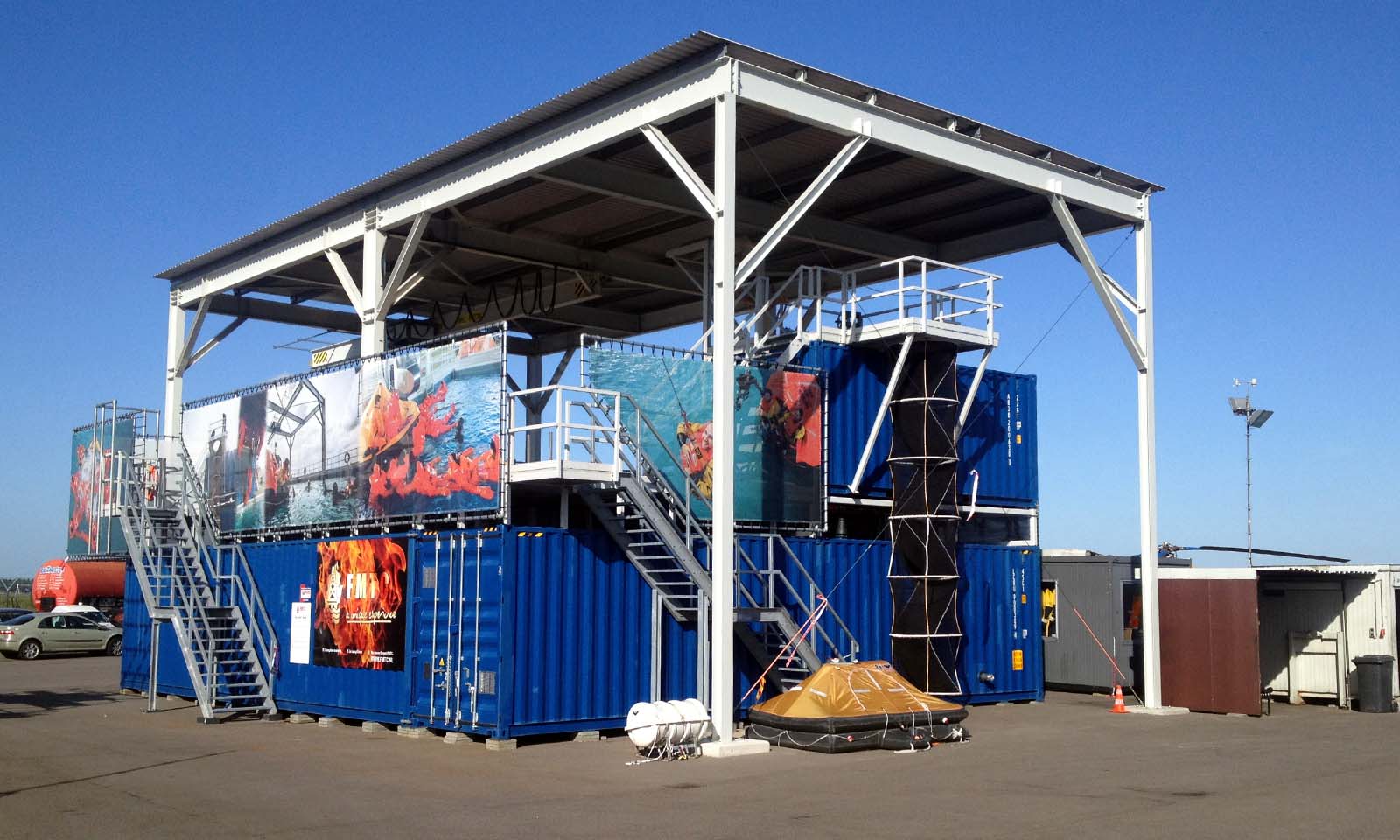 The fully modular OPITO training pool with all necessary modules is equipped with a helicopter, GWO ladder, HUET and water filtration. The solution is designed for training centres that do not have the space to build a fully enclosed pool. For the HUET (Helicopter Underwater Escape Trainer) SAPHIRE-CTC has a 'standard' training object, but it can also be adapted to client-specific needs.
Ship objects
Before leaving the ship in case of an incident, you will first try to eliminate the danger. In the ship's training objects, exercises can be held such as engine firefighting, search & rescue, and evacuation. The realistic appearance of the objects increases the level of the scenarios and therefore the experience of the student.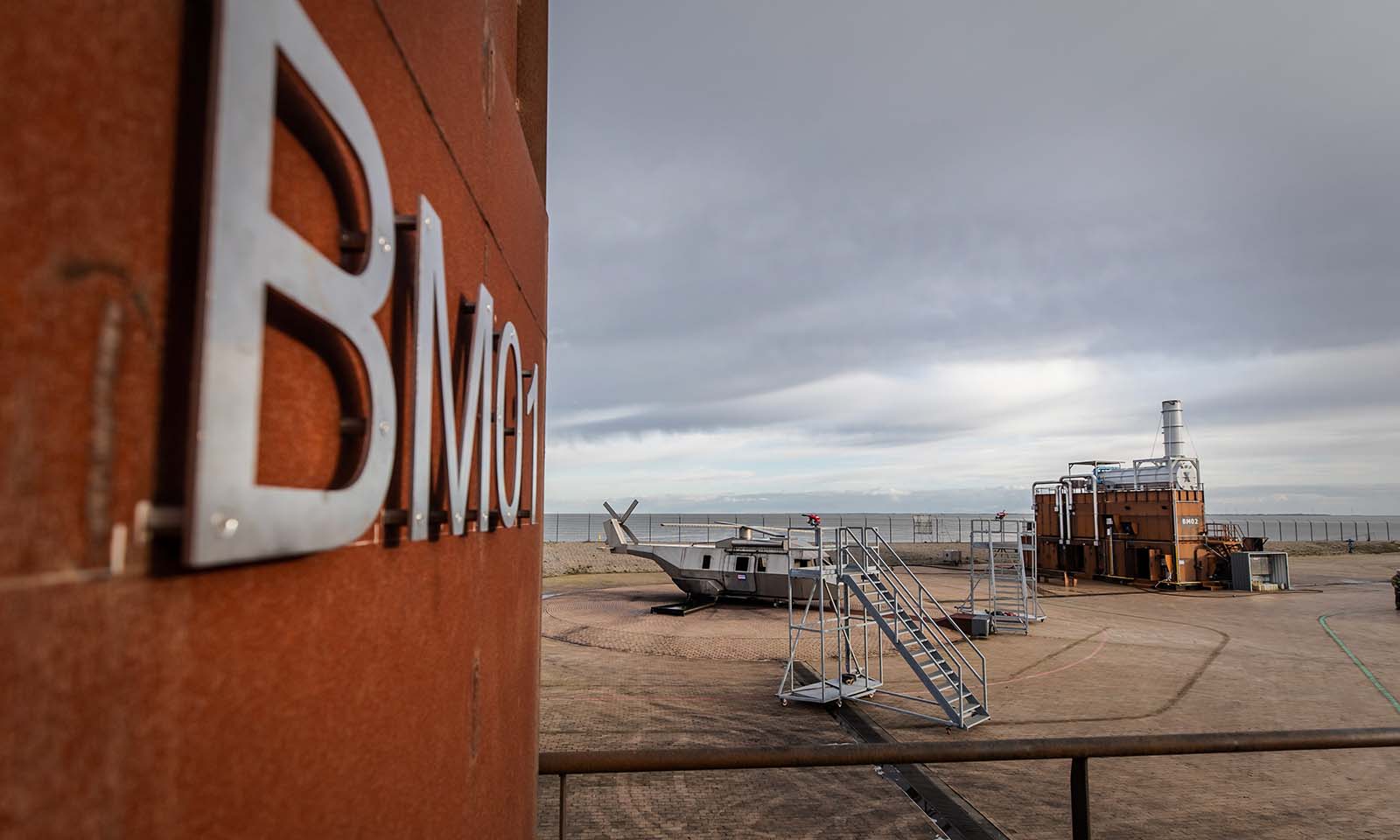 The ship training objects can be realised in different ways. Some clients want to keep it simple, so a basic (STCW) training object can consist of two sea containers. On the other hand, there are also advanced training objects that can be built from several sea containers, complete ship sections or the conversion of a real ship. Whether it is a basic or high-end training object, they can all be equipped with various crawl-through applications, realistic engine rooms and accommodation. The fireplaces needed for the exercises can be either gas or wood fired.
Make your training centre unique by challenging SAPHIRE-CTC to create a special object that has never been built before.
Leakage objects
In the event of a leaking hull, for example due to a collision, leakage from a pipe connection or a weapon impact in case of a Navy vessel, the crew members are dependent on each other to keep their ship afloat. SAPHIRE-CTC has developed various leakage training objects for this purpose, equipped with a variety of possibilities.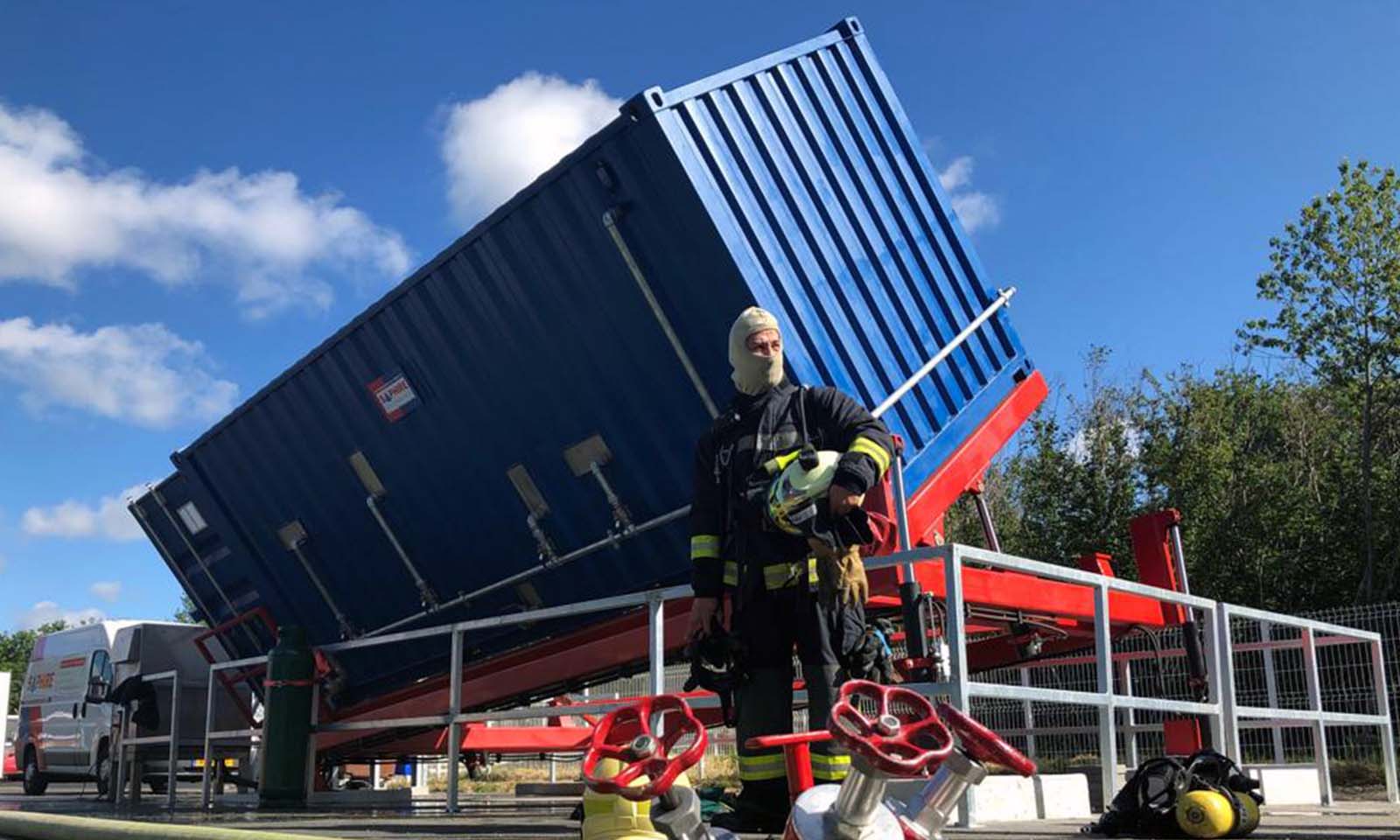 The Leakage Training Objects can be used to train on how to stop a water leak in an emergency, in case of a cracked hull, a leaking pipe or a leaking flange. For an extra dimension in the exercise, it is possible to make the entire exercise object heave. The simulators can be operated manually as well as electrical/hydraulically by remote control. The applied construction methods are the conversion of a container to the building of a realistic ship section at full size.
Davit objects
Various types of lifeboats, freefall lifeboats and FRBs are used to practice evacuation and rescue of drowning persons. Part of the STCW and OPITO is learning how to use these types of boats and their davit systems so that people can act safely in an emergency.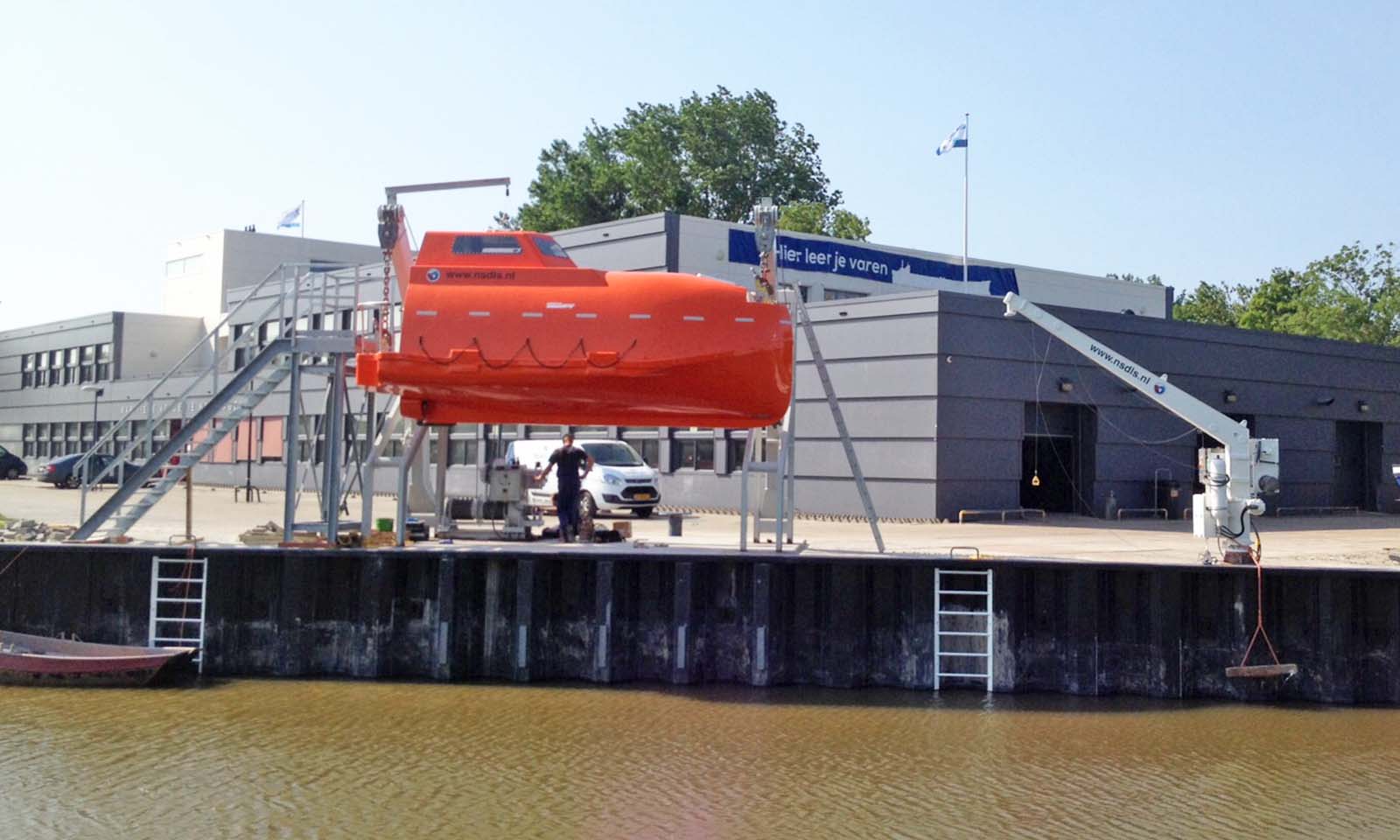 SAPHIRE-CTC has extensive experience in supplying and installing several Davit training objects with matching boats. The training objects can be adapted for the use of an existing davit system or can be provided with a new davit system including approval.
Other objects
At a maritime training centre, various objects are needed for training to be able to carry out a realistic exercise. For example, when learning to change from a boat to a wind turbine, a boat landing is used which must meet the requirements of the GWO.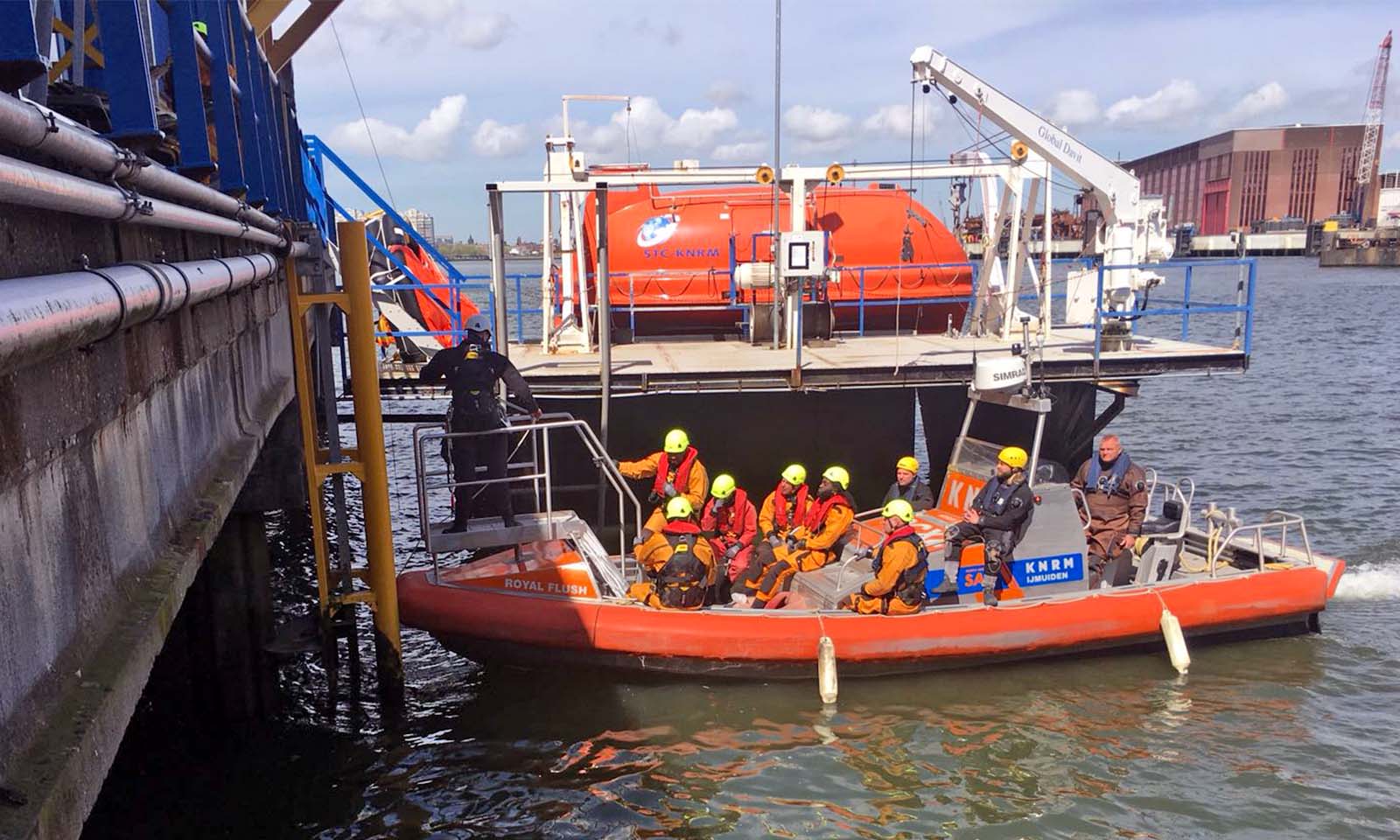 SAPHIRE-CTC can also help you with all other facilities that need to come along with the training objects but are not a direct part of them. SAPHIRE-CTC sees these acts of carrying out small adjustments, such as the manufacture and supply of platforms and steelwork, as part of the service we provide. It is SAPHIRE-CTC's strength to unburden the client.
---
Do you have a project in mind that is not directly reflected in the examples above , please feel free to contact us. We look forward to a new creative challenge!
Contact us
Fill in the form or send an e-mail